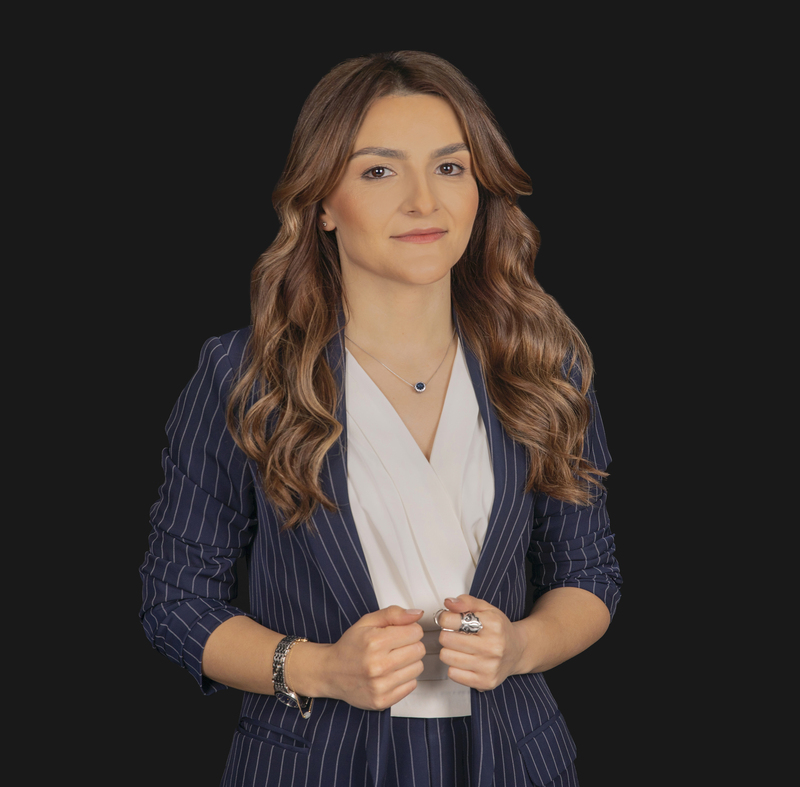 General Director, Partner, Attorney at Law
Education: Gohar Gevorgyan graduated from Yerevan State University (Department of Law) with Honorary Distinction in 2010; she got her Master's degree in Criminal Law and Procedure at Yerevan State University and graduated with honorary distinction in 2012. Now she is doing her Ph.D. at Yerevan State University.
Professional trainings, memberships and publications: Since 2007 Gohar Gevorgyan has been a member of the Arbitration institution at the Chamber of Commerce and Industry of the Republic of Armenia. Gohar is a member of the Armenian Bar Association, Chamber of Advocates of the Republic of Armenia. From 2008 to 2011 she was working as a Lawyer at "DGA Realty", from 2010 to 2011 she was working at the "Armenian Association of Criminologists" NGO as an expert. From 2012 to 2015 she was working at "AM Law Firm" LLC as a general counsel and attorney. From 2013 to 2014, Gohar was working as an expert at "International and Comparative Law Center-Armenia". Since 2013, she has been lecturing at the International Accountancy Training Center. From 2015 to 2018 Gohar was with "DGA Law Firm" LLC as a general director and attorney. Prior to joining the firm, Gohar was working at the Academy of Justice of Armenia, as the Head of the Unit of Scientific research and Programmatic-methodological activities. She participated in various trainings in Armenia, Russia, and Europe. Gohar took part in the training course of the Council of Europe on the "Violence against women and domestic violence''. She participated in the conference entitled "Access to Justice for Women Victims of Violence" in Strasbourg as a member of the Armenian delegation. She has published more than 35 articles on Criminal and Civil procedure and Advocacy law.
Today Gohar Gevorgyan is a leading partner in our law firm. She is a corporate lawyer who serves as a counsel and legal adviser to a variety of clients. She focuses on transactional cases, including the purchase and sale of businesses and creation, restructuring and reorganization of corporate and partnership enterprises. She advised corporate clients on governance, shareholder rights, and succession planning.
Gohar's practice is focused on Intellectual property law, such as trademark and copyright matters. In this sphere, she has represented clients ranging from individual inventors to the largest camping tent manufacturers in the world. Her clients are both domestic and foreign.
Gohar is aware that every person is different, as is every case, and tailors her approach to each client accordingly.
Practice Areas: Corporate law, administrative Law and Procedure, Civil Law and Procedure, Labor Law, Tax Law, Human Rights, Negotiation and Mitigation, Criminal Law and Procedure.
Languages: Armenian, Russian, English, French (beginner)