The results of the bankruptcy survey were presented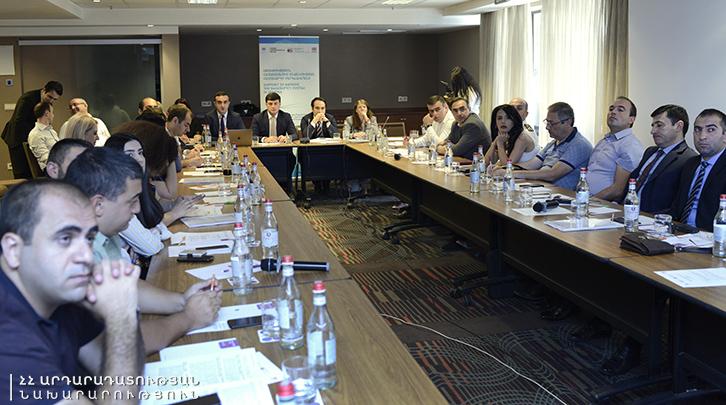 On July 16 the main results of the bankruptcy system survey and the roadmap developed on it were presented. The survey was implemented within the framework of the "Support to improve the bankruptcy system in Armenia" Project. The Project is funded by UK Good Governance Fund (GGF) and implemented with the support of "ELL Partnership" Law Firm.
At the discussion were present the Partners of "ELL Partnership" Law Firm Norayr Balayan and Gevorg Tumanov, First Deputy Minister of Justice Artak Asatryan, Deputy Minister of Justice Tigran Khachikyan, Deputy Minister of Economy Avag Avanesyan, Deputy Head of the Embassy of the United Kingdom of Great Britain and Northern Ireland in Armenia Alison Chick, Judges, representatives of "Centre for Legislation Development and Legal Research" Foundation and others.
Welcoming the participants, First Deputy Minister of Justice Artak Asatryan underlined that reforms in the field of bankruptcy are always on the agenda of the government, and at the same time noted that this is a continuous process, and it is necessary to update the sector's regulations with time challenges, which will also lead to the improvement of the business environment.
Deputy Head of Mission Alison Chick noted that the UK Government has been involved in this process with great willingness and believes that it will contribute to making Armenia's investment and business environment more attractive.
During the discussion the Head of Public Administration Practice of "ELL Partnership" Tatev Matinyan presented the report on bankruptcy research. In particular, data collection activities have been carried out in the following stages: Public Opinion Survey, which includes interviews with legal entities and individuals who have been bankrupt or are still in the process of bankruptcy over the past three years, conducting in-depth interviews and focus group interviews with field specialists and Ministries. The survey was aimed at revealing the problems arising in different stages of the bankruptcy process in Armenia, as well as the expectations and positions of policy makers and key players in this field, as well as their possible solutions.
The results of the survey were presented during the meeting, followed by a question-and-answer session between the participants.
Bankruptcy System Assessment Report